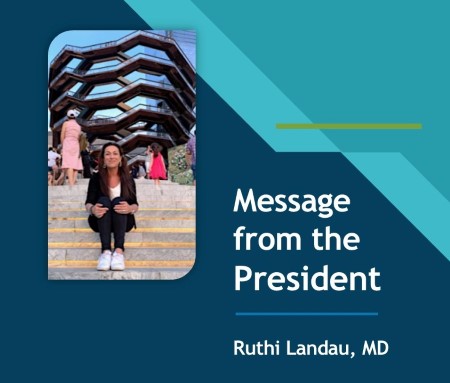 Message from the President
Ruthi Landau, M.D.


2020-2021 President

Dear SOAP Members,

As I am reflecting on this academic year that is about to end, which also brings to a term my role as SOAP's President, allow me to share with you a few thoughts. In the last 15 months, we have crossed many bridges and overcome innumerable challenges as anesthesiologists, as a community and at home. After the initial shock and perhaps denial, the frustration and sometimes anger, we transitioned with resilience and courage into a new norm within our institutions, on our labor and delivery units, and also within SOAP.

In this new norm, we have redefined our mission, vision and values, and articulated strategic pillars that will guide SOAP's leadership and its community in all future initiatives. Last but not least, we are committed to diversity and inclusivity throughout our organization, such as creating an environment where all members have an equal opportunity to succeed and to be heard, and by supporting scholarship, research and education that address inequities in peripartum care.

So, with that in mind, I would like to thank you, SOAP members, for your remarkable engagement and energy, and for showing your dedication to "building bridges and moving forward" and promote "safe and equitable care for women and newborns everywhere." It has been an honor to serve SOAP and its community.

The SOAP 2021 Business Meeting – May 12
Our annual business meeting was held on May 12 and a recording is available for those who missed it.

The 2021 Annual Meeting – May 13-16
The SOAP 2021 Virtual Annual Meeting was exceptional. Special thanks to the Annual Meeting and Live Events Committee and the Research Committee abstract review team for their incredible work and flexibility. They prepared and delivered an outstanding program with all signature elements of a SOAP meeting – high quality education and the latest in research – with a platform that allowed rich and productive discussions.

Thank you to all invited guest speakers, panelists, moderators, abstract presenters, judges, and congratulations to the many recipients of awards and grants.  View the full list.

Latest numbers:
944 attendees from over 30 countries - the largest attendance at any SOAP meeting in the last 10 years, with 41% first time attendees
268 live presentations over 4 days
 2021 SOAP/Japanese Symposium – May 21-22
The Japanese Symposium was two years in the making and did not disappoint. The partnership between SOAP, Japan Society for Obstetric Anesthesiology and Perinatology (JSOAP), Japanese Association for Labor Analgesia (JALA), and Japanese Association for Perinatal Anesthesiology (JAPA) was a model for future symposiums.  The two-day event was held virtually and attended by approximately 75 people each day. 
As a reminder, attendees of the SOAP Annual Meeting and SOAP/Japanese Symposium can access the virtual platform for 30-days post meeting and CME hours must be claimed by December 31, 2021 from the American Society of Anesthesiology (ASA).
Board of Directors Election Results
Congratulations to Vibha Mahendra, MD, University of Southern California, elected in a runoff as the Director Less than 5 Years from Training! You can view the video messages from Dr. Mahendra and the other new Board members:
Rayna Clay, MD, Greater University of Florida Anesthesiologists Unicom Division – Director from Community Practice

Daniel Katz, MD, Ichan School of Medicine at Mount Sinai – Education Committee Chair

Jaime Murphy, MD, John Hopkins University – Intersociety Committee Chair
Committee Interest Next Steps
Many of you expressed interest in serving on a committee or task force and we are looking forward to tapping into the talent our members are willing to share.  Committee interests are being shared with the incoming committee chairs who are also setting committee goals for the upcoming year.  Details on placement to come.
Sincerely,
Ruthi
Ruthi Landau, MD
President, Society for Obstetric Anesthesia & Perinatology (SOAP)