Information for Mothers
Keeping You and Your Baby Safe and Comfortable Before, During, and After Delivery
As the voice of obstetric anesthesiologists, the Society for Obstetric Anesthesia and Perinatology (SOAP) provides trustworthy, high-quality answers to all your questions about managing pain before, during, and after delivery. Our information has been written and reviewed by experts in caring for pregnant women throughout the delivery period. 
Our newest resources include SOAP informational brochures and flyers to help answer questions about your delivery and anesthesia care. Click on the titles below to download the information. 
---
Information About Labor Epidurals: Your Questions Answered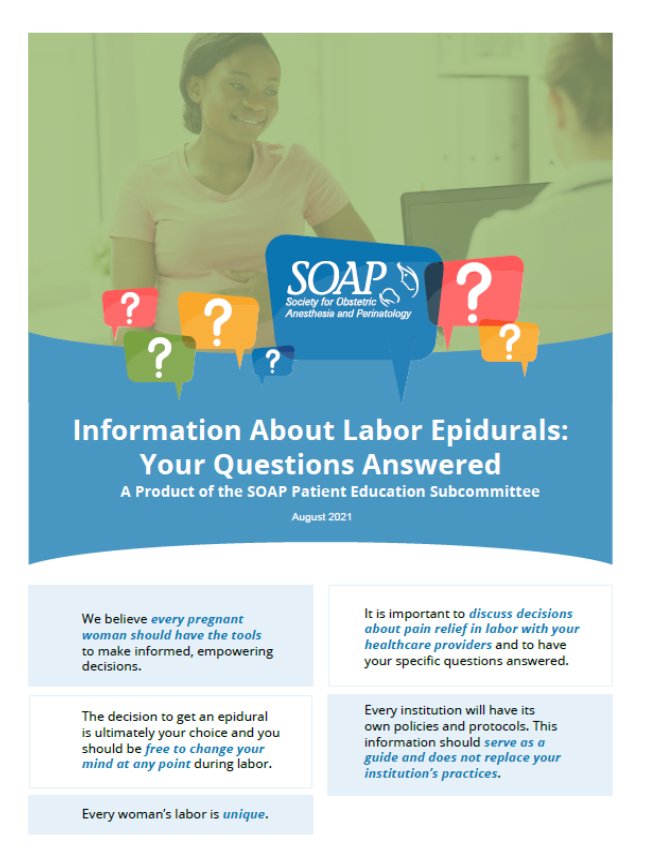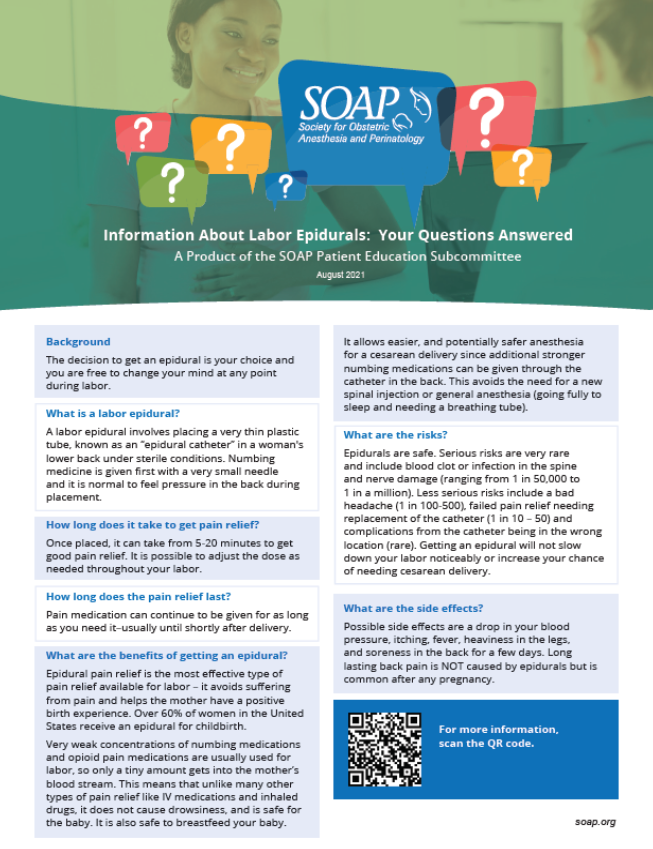 Download the Full brochure (PDF) 
Download a 1-page flyer with QR code to full brochure
---
Information about Anesthesia for your Cesarean Delivery: Your Questions Answered

  
Download the full brochure (PDF)
Download the 1-page flyer with QR code to access the full brochure (PDF)
---
Your Questions Answered: Alternatives to Epidural Pain Relief for Labor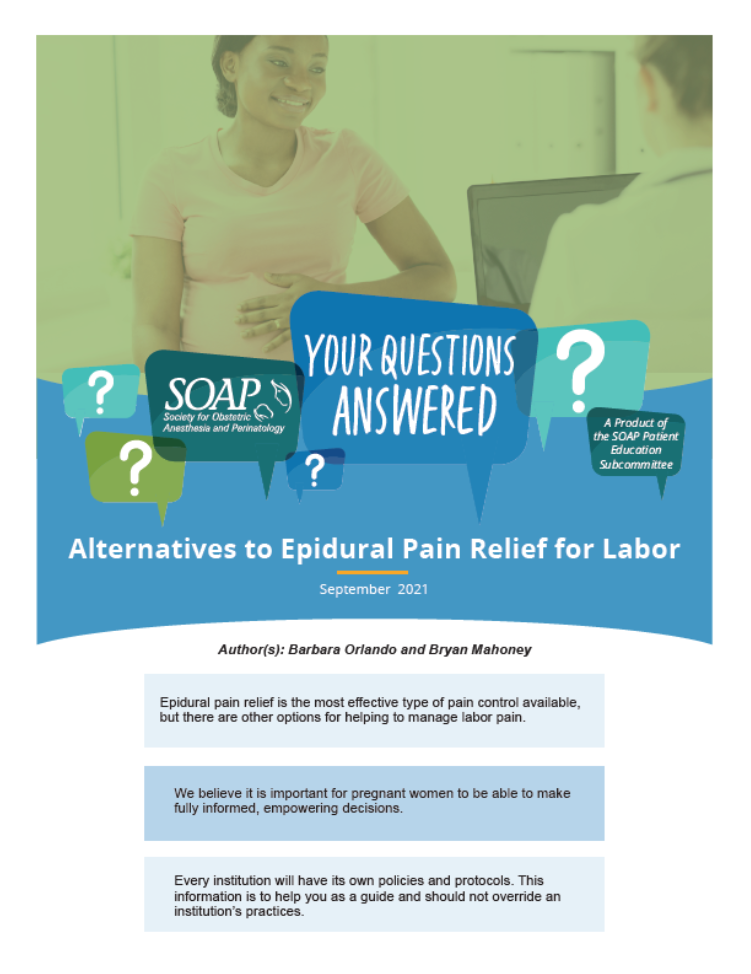 Download the infographic (PDF)
---
News
Labor Epidurals Do Not Cause Autism; Safe for Mothers and Infants
Added October 1, 2021:  Findings from 2 new population-based studies in JAMA do not provide supportive evidence for an association between epidural labor analgesia and autism spectrum disorder in children. 
Added April 21, 2021: SOAP was gratified to receive notification from SOAP members Dr. Brian Bateman and Dr. Alex Butwick that additional research on this critical issue has been published in JAMA Pediatrics. The findings of these comprehensive research studies, published April 19, 2021, found no association between autism and labor epidurals for pain relief. This reinforces our previous statement that labor epidurals are safe. Here are links to the e-published research studies:
In October 2020, SOAP reassured pregnant women that the article "Association Between Epidural Analgesia During Labor and Risk of Autism Spectrum Disorders in Offspring," a retrospective database study published in JAMA Pediatrics on October 12, 2020, did not provide credible scientific evidence that labor epidurals for pain relief cause autism. SOAP jointly released a statement with the American Society of Anesthesiologists, Society for Pediatric Anesthesia, American College of Obstetricians and Gynecologists, and Society for Maternal-Fetal Medicine and provided the following resources.
---
Helpful Links
The safehealthcareforeverywoman website provides additional helpful resources. SOAP is proud to be a supporting organization of the Council on Patient Safety in Women's Health Care.
---
Videos

 
Pain Management During Childbirth (external link, YouTube)
by Catherine Tsai, MD; Devon Smith, MD; and Mark Rollins, MD, PhD
This multi-part video explains the basics of delivery pain relief, including non-medical interventions, IV pain medicines, Nitrous Oxide (laughing gas or gas in air), and epidurals. 
The Gentle C (external link, YouTube)
SOAP member and past president Bill Camann, MD, discusses the Gentle Cesarean.