Sir James Young Simpson
Biography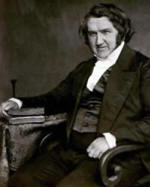 Sir James Young Simpson (1811-1870) was born in Bathgate near Edinburgh, Scotland. He trained as an Obstetrician becoming Professor of Midwifery in the University of Edinburgh. He was the first to use ether in obstetric practice in the UK on January 19 1847. In his search for a better agent he experimented together with friends in sniffing various agents, while seated around the dinner table. He subsequently introduced chloroform on November 8, 1847. He was harshly attacked on moral rather than theological grounds for its use in relieving the pain of childbirth and it was not until Dr. John Snow administered chloroform to Queen Victoria for the birth of her eighth child (Prince Leopold) that the seal of respectability was set on the relief of pain in childbirth by anaesthetic drugs.
On Chloroform (November 1847)
Sir James Young Simpson was the first to use inhalational ether for relieving the pain of childbirth in 1847. In further experiments he discovered inhalational chloroform to have superior properties to ether and advocated its use.
His paper, "Account of a New Anesthetic Agent, Substitute for Sulphuric Ether in Surgery and Midwifery" was one of the first publications looking at pain relief for women in labor. As we know today, both ether and chloroform have properties that make them undesirable for analgesia during labor, but we are grateful for Simpson's early experiments which provided the impetus and foundation for modern obstetric anesthesia.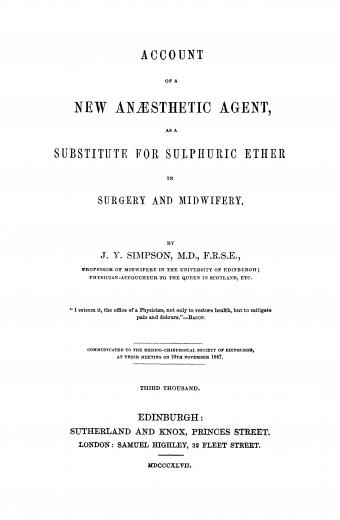 ACCOUNT OF A NEW ANESTHETIC AGENT, SUBSTITUTE FOR SULPHURIC ETHER IN SURGERY AND MIDWIFERY

J.Y. Simpson, M.D., F.R.S.E.
Professor of Midwifery in the University of Edinburgh;
Physician-Accoucheur to the Queen in Scotland, Etc.
Edinburgh: Sutherland and Knox, Princes Street.
MDCCCXLVII